Fish-On-North-West Fishing Guide Service
Fish-On Northwest was started in 1997 as the result of working in Alaska for one season. I went to Alaska to see if I wanted to be a fishing guide. After spending four months working for a lodge in Alaska, I decide this is what I wanted. The first few years were a struggle, but since my business has continued to grow into what it is today. Each year I spend much of my time on the water chasing the runs of salmon, steelhead, sturgeon, trout, and smallmouth bass. My business has created many wonderful friendships with clients.
Today I spend my time between work and family. My wife Jenny and I have two awesome girls, Libby and Peyton. Both are full of energy, and Jenny and I are excited to show them the world. Jenny could not be more understanding of my schedule and time away from home. My have established a balance that works for us and our family. I hope to have a chance to spend a day with you on one or Oregon's rivers experiencing what our state has to offer.
Check Out Fishing Videos!
Small Mouth Bass Fishing on the Umpqua River: May, June, July, August
Smallmouth bass is a great summer fishery. It takes place on the Umpqua river near the town of Elkton, Oregon just an hour SW of Eugene. Our goal is to catch 100 fish a day in the summer. Fishing starts in the spring and continues through summer depending on water conditions. Plastics and crankbaits are the ticket for the majority of the season. We use light tackle to make the most of these hard fighting fish. This is a great trip for families and kids because of the steady action.
Salmon: March, April, May, June, August, September, October, November, December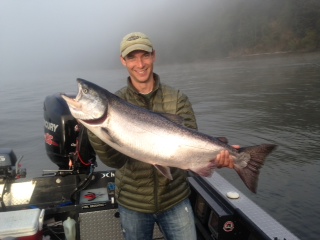 Salmon fishing in Oregon has much to offer, whether it be Spring Chinook or Fall Chinook. Our Spring season is spent on the Columbia, Willamette, Mckenzie, and Umpqua rivers. Spring salmon tend to be smaller than Oregon's Fall salmon, however they are the best tasting salmon. Fall salmon fishing starts in August and continues in December. Our primary fisheries include the Siuslaw, Umpqua, and Coos rivers. The Elk and Sixes rivers are the go to place for late Fall fishing which takes us into December. Most of the fishing in the months of August, September, and October are done trolling in the bays which offer chrome bright salmon in the 20 to 30 pound range. Each larger fish are caught which can reach 50 pounds.
Sturgeon Fishing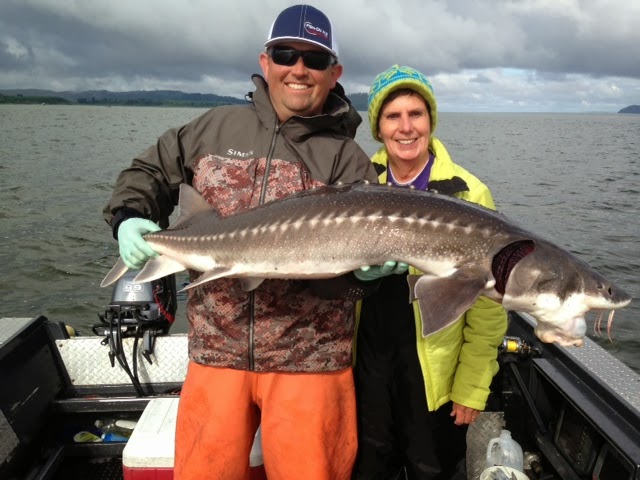 Sturgeon fishing can be fished any month of the year, however my favorite time to fish sturgeon is during June and July in Astoria. Plan on catching 20 to 50 fish a day. These fish range from three to seven feet in length. My goal is to spend time fishing shallow water each day if possible. The sand flats in Astoria create an abundant source of food for sturgeon.
Fishing in Portland takes place all year. Generally we catch more fish than Astoria, but many of the fish tend to smaller and the water is deeper. For people who are just interested in catching fish and having a great day, Portland sturgeon fishing is hard to beat.
Steelhead: January, February, March, April, May, June, July, December
Oregon offers many opportunities to catch steelhead. Oregon has two runs of steelhead, winter and summer. Winter fishing takes place on many of the coastal streams. Fish-On Northwest focuses on fishing the Umpqua, Siuslaw, Lake Creek, Nestucca, and Coquille rivers. The Umpqua river starts fishing first in December. The Umpqua tends to produce the largest numbers of fish when fishable, with the majority being wild fish. The Nestucca river generally fishes into April with a good percentage of bright fish late into the season. It also offer the occasional summer fish in April.
Trout Fishing: All Year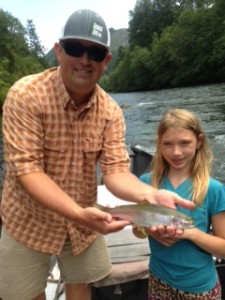 Trout can be caught year round on the Mckenzie and Willamette rivers in Eugene, Oregon. The most popular fishing takes place on the Mckenzie river during the spring and summer months. We fly fish and also use conventional gear depending on the angler and their needs. The Mckenzie offers a unique experience that most anglers do not get to experience. We pull over for shore lunches, cooking the fish they caught earlier in the day. This gives us a chance to take a break and experience the beauty of the Mckenzie river. Trout have turned into one of my favorites.
About The Boats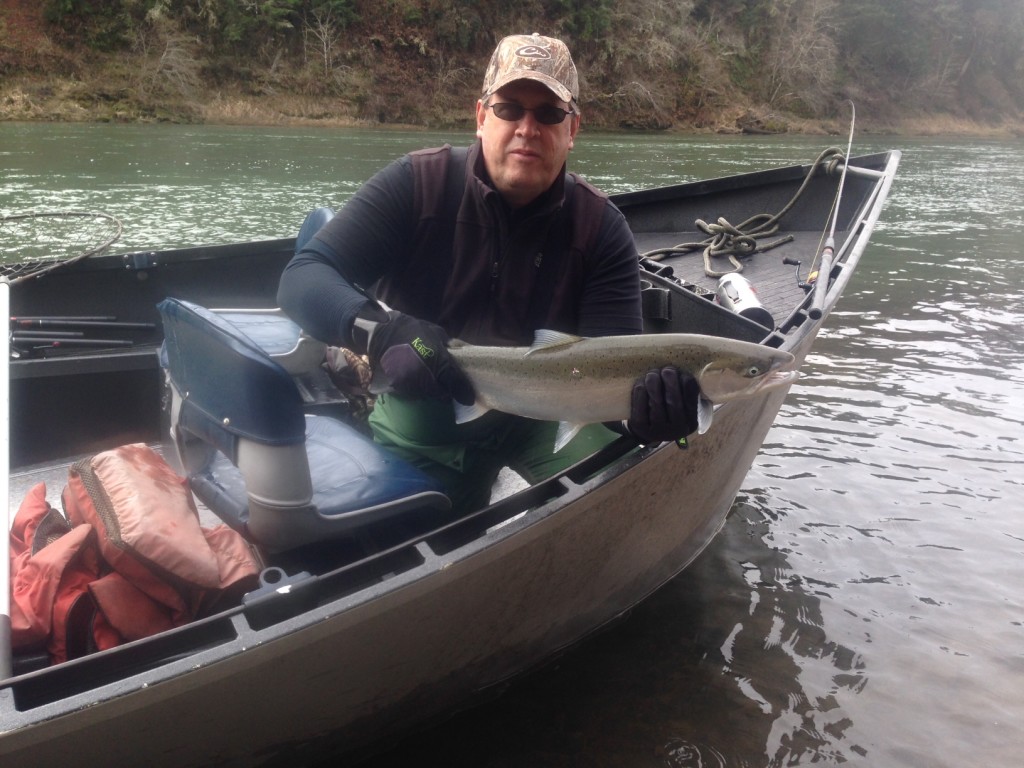 Fish-On Northwest Fishing Guide has 3 beautiful boats!  Each is used for different fishing situations.   We have a 25 foot Koffler Jet Sled, that will seat 6 clients very comfortably, a 22 foot Koffler Jet Sled, which seats four passengers and also a 20 foot Koffler Drift-boat, which also seats four passengers.  Our goal is to make sure you are safe, comfortable, and that you experience the fishing trip of your lifetime.  Shane will share his extensive knowledge of fishing,including his best kept  fishing techniques, what bait to use, and how deep to fish. he'll even show you some of his most productive hot spots! We offer the very best bait, tackle and gear money can buy.